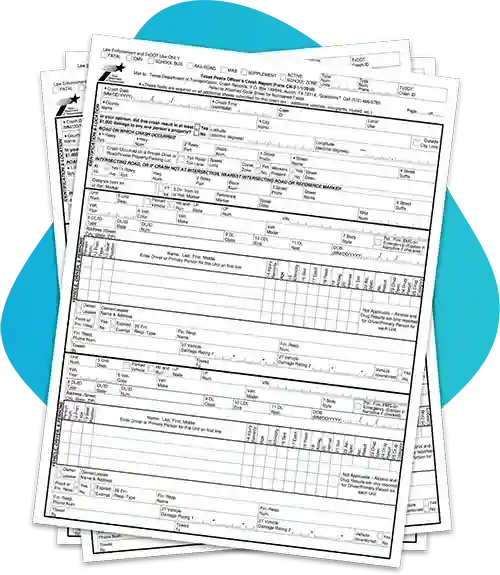 The CR3 'Peace Officer Report'
A Texas accident or crash report is officially titled as the 'CR3 Peace Officer Report'. It is used by law enforcement to record the details relating to an accident involving any type of vehicle. The details in the report are recorded by the officer who attended the scene of the accident. If a police officer did not attend your accident you have the option to file your own report and the state provide you with a form titled 'CR2 Driver's Crash Report'.
The report can be pretty complicated due to the fact that there are often 1000's of circumstances and facts that are recorded about the accident details, drivers, occupants and vehicles involved. If you are looking for a very detailed explanation of the information, codes and terminology used in the CR3, the following documents provide a comprehensive guide:
| No. | Title | PDF |
| --- | --- | --- |
| CR-3 | 2018 Fillable PDF Version (Crashes that occurred on or after 1/1/2018) (Rev. 1/1/2018) | |
| CR-3CS | 2018 Code Sheets (For filling out the 2018 CR-3) | |
| CR-100 | 2018 Instructions to Police for Reporting Crashes (Version 17.0) (Rev. 06/28/2018) | |
TxDOT and CRIS Data System
The police officer files the CR3 report using a TxDOT system called: "CRIS" which stands for "Crash Reporting Information System". Texas is one of the most advanced states in how it handles it's accident reports and the technology it uses to make reports available for its citizen's online. One of the key barriers others states face in recording facts about The CRIS system are the hundreds (often thousands) of Police agencies operating the state and the different technology they use. To give you some idea there are over a thousand police agencies operating in Texas all capable of attending an accident and recording information in the CR3 form. (If you ever wondered exactly how many - we made and easy way to look them all up here)
Luckily, Texas took steps over 5 years ago to centralize their technology and now nearly all police agencies operating in Texas use the CRIS system. What does this mean to you? Well it means you can easily find your report online and it saves you waiting for the mail or a trip to the Police agency office.
3 Ways to Get A Copy Of Your Report On-Line In Texas
1. Use MyAccident.org
MyAccident.org provides a free version of your report. This report holds all the details from the CR3 form with the exception of personal information like the names and contact information for those involved. You can also download a copy of your official report
2. TXDOT CRIS SYSTEM - TxDOT
Texas Department of transport is one of the most advanced DOT's in the US. Through several technology initiatives it has created a comprehensive database that can be accessed at the link provided. If you can make it through the slightly complicated User Experience. This is by far the best place to obtain a copy of your report.
3. Other Data Sites like LexisNexis or CrashDocs
These can be a good reliable source of data. However the sites can be difficult to use and do not have all the Police Agencies in Texas. (sometimes less than 50%)
Information you need to find your accident report in Texas:
Case ID number
First and last name of an occupant or driver
Date and time of the accident
The location of the accident
Legal Requirements To Request Your Accident Report
In order to purchase a Non-Redacted copy of Texas peace officer's Crash Report ID 17313269, you must certify that you meet one of the requirements of Texas Transportation Code 550.065. Providing false information is a violation of Texas Penal Code §37.10 and could result in criminal penalties.
You must comply with at least one of the following:
---
• Any person involved in the accident
• The authorized representative of any person involved in the accident
• A driver involved in the accident
• An employer, parent or legal guardian of a driver involved in the accident
• The owner of a vehicle or property damaged in the accident
• A person who has established financial responsibility for a vehicle involved in the accident in a manner described by TTC section 601.051including a policyholder of a motor vehicle liability insurance policy covering the vehicle
• An insurance company that issued an insurance policy covering a vehicle involved in the accident
• An insurance company that issued an insurance policy covering any person involved in the accident
• A person under contract to provide claims or underwriting information to a person who has established financial responsibility for vehicle involved in the accident in a manner described by TTC section 601.051, including a policyholder of a motor vehicle liability insurance policy covering the vehicle
• A person under contract to provide claims or underwriting information to an insurance company that issued an insurance policy covering a vehicle involved in the accident
• A person under contract to provide claims or underwriting information to an insurance company that issued an insurance policy covering any person involved in the accident
• A radio or television station that holds a licence issued by the federal communications commission
• A newspaper that is: I.a free newspaper of general circulation or qualified section 2051.044, government code, to publish legal notices; II.published at least once a week; and III.available and of interest to the general public in connection with the dissemination of news
• Any person who may sue because of death resulting from the accident other (provide justifications)
---
Reasons you can't find Your Crash Report
1. Not filed yet
It may be that the report has not yet been filed by the police officer, or that you are missing some information relating to the accident, like the exact date or location, the specific police department that attended your accident (there are over 1000+ police agencies in Texas, after all) and a whole load of other reasons. You can use MyAccident's Alert tool to be notified by SMS or email when you report is filed
2. Not sure of some details
It may be that you aren't sure on some of the exact details relating to the accident. You may have lost your ticket and do not have the Case ID. You may not be sure of the specific Police Agency that attended the accident. Here are some ways MyAccidnet.org can help: