Request A California Crash Report Online
Getting involved in a motor vehicle accident in California is a traumatic time for anyone. Obtaining your California accident report is critical to advancing your cause, whether it's making a claim through your insurance agent or fighting your case in the courtroom.
CHP car accident reports are critical pieces of evidence showing what happened, where it happened, and potentially why it happened. Your CHP crash report will detail what the attending police officer saw and heard when reviewing the scene.
You have a right to view your California traffic accident report. California makes it easy for you to obtain your report online. With the help and support of MyAccident, you can search California highway patrol accident reports online.
With the information contained within, you can find out everything you need to know about how your accident was documented. If you need your California collision report, get it for free now through My Accident Report.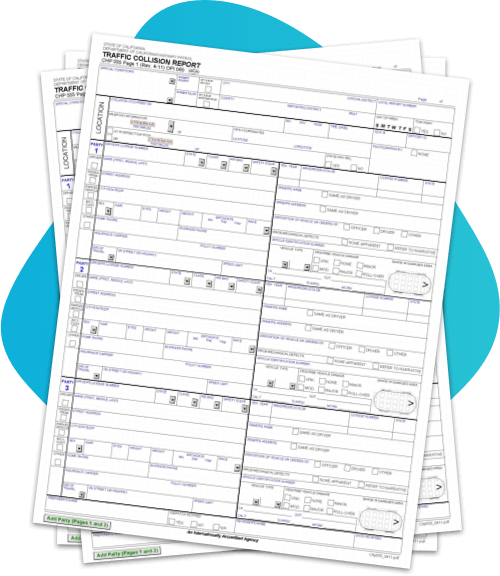 The CHP 555 'Traffic Collision Report'
A California accident or crash report is officially titled as the 'CHP 555 Traffic Collision Report.' It is used by law enforcement to record the details relating to an accident involving any type of vehicle. The details in the report are recorded by the officer who attended the scene of the accident. If a police officer did not attend your accident, then you must use a 'SR 1 TrafficAccident Report' to report the accident to the DMV within 10 days if (1) there was property damage of more than $1,000.00, (2) anyone was injured (no matter how minor), or (3) anyone was killed. The following documents and websites provide more information on the CHP 555 and the SR 1.
When Should I Request a Legal Consultation?
1. You Are Hurt or Suffered a Serious Injury or Permanent Disability
If you were seriously injured in an accident or acquired a serious illness, you definitely need a lawyer. There is no room for chance when a lifetime of pain, suffering, and bills are on the line.
2. You Aren't Sure Who is At Fault
If you were involved in an accident and it is unclear who was at fault, you should definitely consult with an attorney. In situations like this, the other party's insurance company will try to blame you for damages.
3. There Are Multiple Parties Involved
If you were injured in an accident that involved multiple parties, consulting with a personal injury lawyer will give you the best chance at not being stuck with the bill.
4. The Insurance Company Denied or is Delaying Your Claim
Insurance companies know that 99% of people do not understand all the complicated laws and procedures that take place in a personal injury claim.
5. An Injury Lawyer is Paid Only When The Case Settles
A personal injury attorney gets paid by winning money for their client through a personal injury lawsuit.
Speak with a local attorney now:
Call Now * Open 24/7
1-800-674-8068
California toll free
¿Español? Llame Gratis 24/7
407-634-5725
CHP Accident Form Downloads
| No. | Title | PDF |
| --- | --- | --- |
| CHP 555 | CHP 555 Traffic Collision Report | |
| CHP 555 | Instructions for the CHP 555 | |
| SR 1 | SR 1 Traffic Accident Report | |
| SR 1 | Instructions for the SR 1 | |
3 Ways to Get A Copy Of Your Report On-Line In California
1. Use MyAccident.org
MyAccident.org provides a free version of your report. This report holds all the details from the CHP 555 form with the exception of personal information like the names and contact information for those involved.
2. Order through mail or in person
To obtain your accident report directly from the California Highway Patrol, you need to know which CHP office filed the police report and you must fill out a CHP 190 'Collision Request Form.' To find out which CHP office filed your report, please call the CHP Headquarters at (916)843-3000. Once you know which CHP office filed the report, you can either mail in the CHP 190 to that office or visit the office in-person to retrieve your report.
3. Other Data Sites like LexisNexis or CrashDocs
These can be a good reliable source of data. However the sites can be difficult to use and do not have all the Police Agencies in California. (sometimes less than 50%)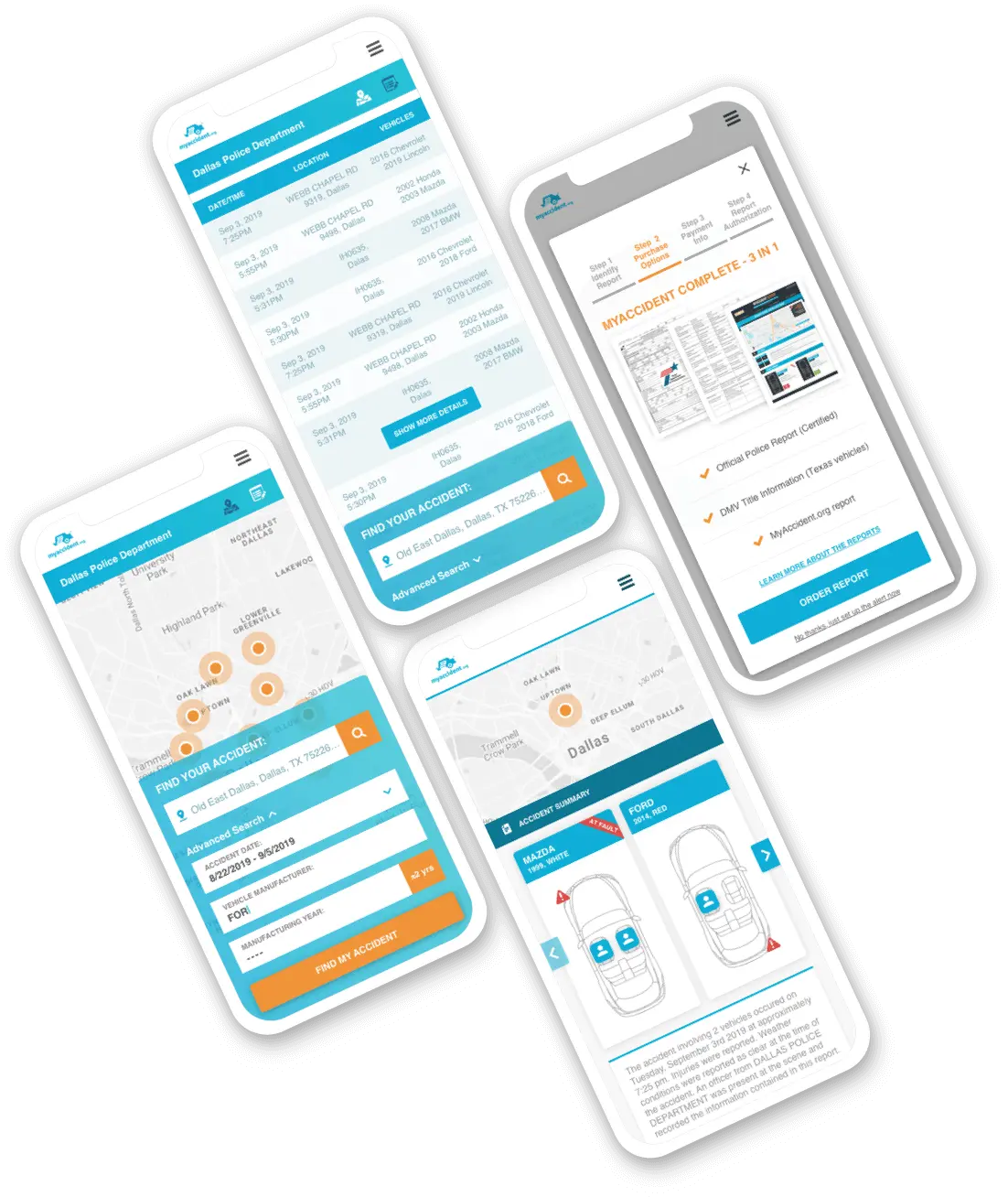 California CHP Traffic Incident Page
CHP has developed a website that provides up to date information regarding traffic accidents in the state of California. The site is kept up to date and has the very latest traffic information. The user is able to search the CHP database by county and also by type of incident. The data comes in live from several sources like the various city and county CHP communication centers and also public sources like "1800 TELL CHP".
California CHP Incident Report
An incident report on the CHP website, is a record of any significant traffic event in California. Incident reports are not copies of your Crash or 'Accident Report', those can be found online using MyAccident.org or requesting a copy of your report from your local CHP office. You can find the closest CHP office using their office finder here.
California Accident Reports - FAQ
---
When must I file an accident report?
California Law requires you to file an accident report titled 'SR-1 Accident Report' when there has been property damage of more than $1,000, any injuries, or any deaths.
This report must be filed within 10 days of the accident and in addition to any other report filed with a law enforcement agency, insurance company, or the California Highway Patrol (CHP) as their reports do not satisfy the filing requirement.
How do I file an accident report in the state of California?
To file an accident report, you must complete the SR-1 and send it to the DMV. The SR-1 will require the following information:
Insurance information that correctly and fully identifies the company that issued the policy.
The NAIC number for your insurance company.
Who else was involved in the accident.
Any other property damage (telephone poles, fences, street signs, trees, animals, etc.)
Once you've completed the form, you will send it to the DMV at the following address:
Department of Motor Vehicles
Financial Responsibility
Mail Station J237
P.O. Box 94284
Sacramento, CA 94284–0884
The SR-1 has complete instructions and can access the SR-1 through this link: https://www.dmv.ca.gov/web/eng_pdf/sr1.pdf
How do I find a public CHP Collision Report?
What is a traffic collision?
A traffic collision occurs when a vehicle collides with another vehicle, pedestrian, animal, road debris, or other stationary obstruction, such as a tree, pole or building. Traffic collisions often result in injury, death, and property damage.
How many people get hurt in traffic collisions in California?
Traffic collisions are a fact of life. With more vehicles on the road than ever before, it is a fact of life that there will be more accidents. Traffic patrols across the nation are stepping up their enforcement and are having considerable success in bringing the rate of fatal and nonfatal accidents down.
The CHP incident report archives are used to develop hard-hitting statistics highlighting the extent of safety on the roadways of California. By using the California Highway Patrol's Statewide Integrated Traffic Records System (SWITRS), CHP builds regular reports to provide a deep and reliable source of information on accidents in California.
The most recent SWITRS report reveals that over 260,000 people were injured in 187,211 crashes in California. Additionally, 3,737 people were killed in 3,438 fatal crashes.
Several vital statistics declined from 2018 to 2019, including:
Total fatalities dropped by more than 5%
Fatal crashes involving alcohol declined by 4.5%
Fatalities involving people not wearing in-car restraints decreased by more than 2%
Motorcycle fatalities involving not wearing a helmet decreased
Fatalities involving teenage drivers and passengers decreased by double-digits.
How do I obtain an accident report from the LAPD?
Obtaining an accident report from the Los Angeles Police Department involves the same process as obtaining a report from the CHP: you will fill out a request and mail it to the LAPD.
For specific information regarding Accident Reports from the LAPD, please visit the following website: http://www.lapdonline.org/obtain_a_traffic_collision_report
Who Can Get a CHP Accident Report?
Your privacy and security are integral to any California accident report. Not just anyone is able to see the details of what happened. To obtain your crash report information, you must demonstrate that you are what's known as a "Party of Interest."
A proper Party of Interest is someone who was either involved in the accident, someone directly connected with the accident, or someone who was connected to someone involved.
In other words, if you were a driver, passenger, vehicle owner, property owner, parent of a minor in the car, or a legal guardian, you could get your CHP accident report without visiting an office in person.
You will need to print and complete Form CHP 190 and send it to your nearest office or hand it in in person. Note that this is the process of applying for an incident report, and following the formal process is your only option.
The same process also applies to getting a copy of a California accident report from the Los Angeles Police Department (LAPD).
Crash reports are available online, and MyAccident.org can obtain your California crash report for you.
How strict are California traffic laws?
If you have worked with the California DMV, you are aware that the Golden State is stricter than others when it comes to traffic laws.
According to the statistics, California is the fifth strictest state in the country. In particular, many drivers get caught out by the Basic Speed Law.
California's Basic Speed Law states that drivers may never drive faster than is safe for the current conditions. In other words, many a CHP report lookup has originated from exceeding an acceptable speed, even if within the bounds of the posted speed limit.
The Basic Speed Law states that speed must be limited based on the road surface, the number of other vehicles, pedestrians crossing the roadway, and the weather conditions.
---